CrimShield Pro Security Clearance Cards™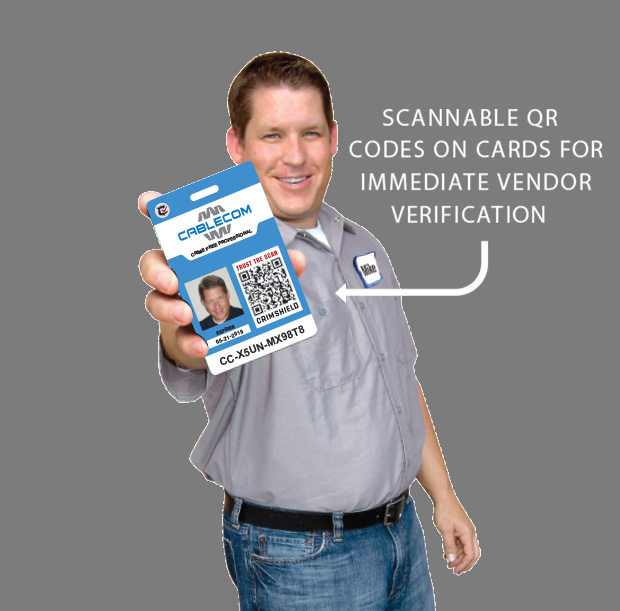 When is an ID card more than a piece of plastic with a picture and a logo? When it's an official CrimShield issued Security Clearance Card that shows customers, coworkers, and vendors that the person wearing it has been Crime-Free Certified.

At CrimShield, we take employment screening and identity verification seriously. That's why we use a nationwide network of licensed private investigators to uncover details that instant background checks can't. And when you go through the process of keeping convicted criminals from working in your company, you should make sure everyone knows.

Our Security Clearance Cards have all the features you would expect from a company identification product, along with a few added extras, such as:
Durable, high-quality custom branded photo identification cards
QR code technology that allows customers and coworkers to verify your employee's identity and crime-free background instantly from a smartphone or tablet with a QR reader
The ability to order replacement ID cards and deactivate employee credentials through our website
Integration with our online employee management tools so you can see or update an individual's status at any time (web connection required)
Your ID card could be a piece of plastic, or it could be a genuine CrimShield issued Security Clearance Card that's a source of safety and pride. Your customers, employees, and vendors are going to feel a lot better knowing that every member of your team has been properly screened, verified, and Crime-Free Certified. Call CrimShield today at 1-888-422-2547 to learn more about our branded Security Clearance Cards and other employee management tools.
HOW CAN CRIMSHIELD HELP YOU?